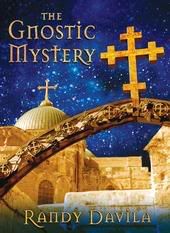 PRODUCT DISCRIPTION FROM AMAZON

:
An ancient mystery in todays Middle East . . . Jack Staunton, an American businessman, makes a pilgrimage to war-torn Israel in hopes of rekindling his Christian faith. While traveling with his friend Punjeeh, an ER doctor from Jerusalem, Jack acquires an ancient scroll written by the Gnostics, a mystical group of early Christians, and his spiritual quest takes an unexpected turn. The scroll makes the startling claims that the Gnostics were the original followers of Jesus, and that they retained secret knowledge of Jesus that was not included in the Bible. With the help of the ingenious Chloe Eisenberg, a professor of Philosophy and Religion, Jack and Punjeeh navigate the dangerous terrain of the Palestinian-Israeli conflict in an attempt to decipher the puzzle of the scroll and bring the Gnostics revelations about Jesus to light. Threaded with the searing realities of today's Middle East, The Gnostic Mystery is packed with historical facts about the Christian religion. The thrilling mystery makes a compelling case that the origins of Christianity are far different than we believed . . . until now. 
Jack decides to take a vacation from his stressful life in Virginia to see his old college roommate, Punjeeh, who lives in Jerusalem. Punjeeh has been a devout Catholic since Jack met him. Lately though, Punjeeh seems to have changed, while Jack is now interested in learning more about his faith.  
Jack meets Chloe, a religion professor who's view on Christianity differs from anything he's ever heard before. She has a great deal of knowledge on the "Gnostic" Christians and while he is intrigued, he remains skeptical. That is, until a twist of fate puts a young man named Tariq in Jack's path. Tariq has stolen two scrolls and has decided to sell them to an American. When asked to purchase the scrolls, Jack, being a sucker for a salesman, decides to buy one. Once he finds out what it is he has received, he and his friends go on a wild goose chase to find the other scroll. These scrolls may have the answers Jack has been searching for.  
I've always been fascinated with religion. Randy is able to teach while keeping the storyline interesting. It didn't seem like I was reading a textbook, yet I learn so much from this book. I would highly recommend this book to anyone who would like to learn more about the Gnostics.