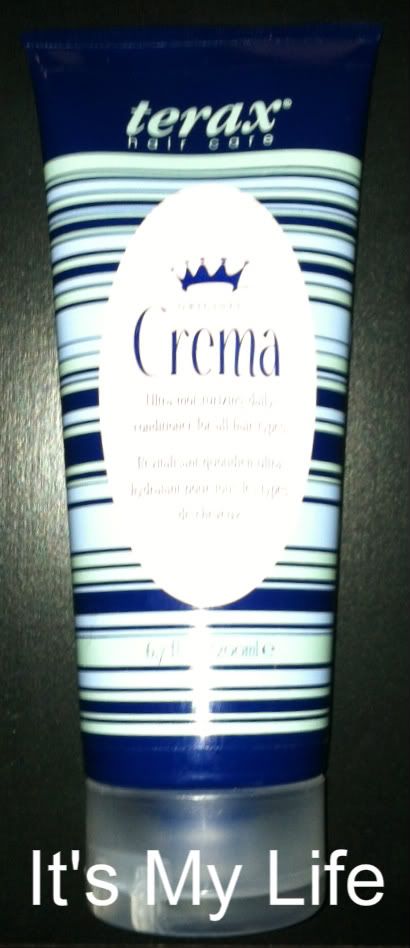 About Terax Crema Ultra Daily Hydrating Conditioner:
"The cult favorite, Terax Crema is a luxurious conditioner, scrented with rice flower, shea, bergamot and juniper is the ultimate way to revitalize stressed tresses. Terax Crema's intense moisturizing properties are designed to heal and restore split ends, breakage, dryness associated with chemical treatments and environmental damage (wind, sun, chlorine and sea salt deposits), as well as combat static electricity. By altering the pH level of the hair, Terax Crema opens the cuticle and allows moisture into the hair shaft leaving it soft and silky. Use Terax Crema daily for healthy, manageable, and frizz-free hair."
THOUGHTS:
I use a lot of harmful products on my hair, such as hair color, a blow dryer and a flat iron. Needless to say, my hair takes a beating. I'm constantly battling split ends and frizz. I have tried several products in the past that promise to tame your tresses but just end up making my hair look greasy or stiff.
I was interested in finding out what
Terax Crema Ultra Daily Hydrating Conditioner
could do to help with my hair dilemma. My hair feels and looks amazing. It isn't nearly as dry and doesn't break easily like it did before. I feel more confident when I go out, which feels great!
a Rafflecopter giveaway
Disclosure: I was provided with a complimentary bottle of Terax Crema Ultra Daily Hydrating Conditioner from Flat Iron Experts for review purposes. All opinions expressed are 100% my own.