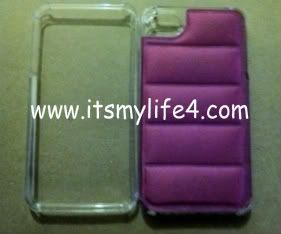 For those of you who don't know, my husband is nothing short of amazing. For my birthday this year he surprised me with an iPhone 4, which I had been wanting so badly. So, enough bragging about the awesome man in my life.
Right after I received my gift, I knew that I needed to get an iPhone case to protect my newly acquired treasure. I ended up receiving one to review on behalf of
Griffin Technologies
. I like the design of my case and the color. The only thing that I'm not thrilled about is that the case is made of plastic, which isn't exactly what I have in mind when thinking about durability. It feels a little flimsy and even though I am currently using it, I will probably end up getting another case shortly. One that I"m sure can withstand a fall or two.
I received the above pictured iPhone case for free from Griffin Technology. All opinions expressed are 100% my own.