What if you had the chance to change everything you thought was not as you hoped in life? That's just what is offered to Stewart (Larry) when he's at his lowest point. He could have been the football hero, the TV star, the investment king, and the perfect dad and husband. Faced with losing his father s toy factory to a greedy business mogul, Stewart discovers a ticket for a one-night-only special train ride with a mysterious conductor to visit his past, present and future. Where will the train stop - and where will he step off in search of a meaningful life?
From
Amazon
One of my readers will win a copy of this DVD
Open to residents of the US and Canada
MANDATORY ENTRY:
You MUST leave a comment telling me who you want to win this for
EXTRA ENTRIES:
+20 for subscribing to the Veggie Tales
newsletter
+5 for subscribing to this blog (email or reader)
+5 for following this blog
+5 for following Bridget on
Twitter
+10 for tweeting this (UNLIMITED):
It's My Life: #giveaway: VeggieTales: It's a Meaningful Life DVD @bridget3420 http://t.co/W5h3GhZ #contest #win
+10 for linking to this contest - make sure you leave the link in your comments (on your blog, - sidebar counts, Myspace, Facebook, etc.) THIS CAN BE DONE ONCE A DAY per site
+5 for subscribing to
Readaholic
(email or reader)
+5 for following
Readaholic
+5 for following
You Wanna Know What I Think...
+5 for following my sisters blog
MamaKnows
+5 for friending Bridget on
Facebook
+10 for grabbing the It's My Life button and placing it on your sidebar
+10 for adding the Readaholic button to your blog
+10 for listing http://bridget3420.blogspot.com on your blogroll
+10 for listing http://freebies4meandu.blogspot.com on your blogroll
+2 if you enter another one of my giveaways (+2 for each)
+50 for adding the Scarefest button on your blog (you must leave the link)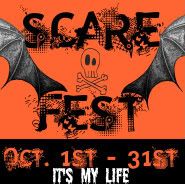 +50 for adding the Holiday Gift Guide button on your blog (you must leave the link)
*Current friends/followers receive the extra points as well - just make sure you remind me in the comments*
**Must leave an email address in comment or must be visible in blogger profile**
Giveaway ends: Nov. 5, 2010
Winners will be notified via email. The winners will have 48 hours to send me their mailing info or another winner will be chosen.
Official Rules - *No purchase necessary. Void where prohibited. *Entry instructions, additional eligibility requirements, prize information listed on individual giveaway posts. By submitting an entry, entrants agree to these rules and agree that they are eligible to enter. The sponsor is responsible for sending the giveaway items.

Disclosure: This DVD was provided for free.