In the blink of an eye. Everyone disappears. GONE.

Except for the young. Teens. Middle schoolers. Toddlers. But not one single adult. No teachers, no cops, no doctors, no parents. Just as suddenly, there are no phones, no internet, no television. No way to get help. And no way to figure out what's happened.

Hunger threatens. Bullies rule. A sinister creature lurks. Animals are mutating. And the teens themselves are changing, developing new talents—unimaginable, dangerous, deadly powers—that grow stronger by the day.

It's a terrifying new world. Sides are being chosen, a fight is shaping up. Townies against rich kids. Bullies against the weak. Powerful against powerless. And time is running out: On your birthday, you disappear just like everyone else...






One of my readers will win a copy of this book
Open to residents of the US and Canada

MANDATORY ENTRY:

You MUST leave a comment on my review. It doesn't need to be a long drawn out comment, anything with do.

EXTRA ENTRIES:

+10 for following Michael on Twitter

+10 for sending him a friend request on Myspace

+10 for sending him a friend request on Facebook

+5 for subscribing to this blog (email or reader)

+5 for following this blog

+5 for following Bridget on Twitter

+5 for following my sister on Twitter

+10 for tweeting this (UNLIMITED):

SCAREFEST #giveaway: Gone by Michael Grant @bridget3420 http://t.co/xFvwQLo #contest #win

+10 for linking to this contest - make sure you leave the link in your comments (on your blog, - sidebar counts, Myspace, Facebook, etc.) THIS CAN BE DONE ONCE A DAY per site

+5 for subscribing to It's My Life (email or reader)

+5 for following It's My Life

+5 for following You Wanna Know What I Think...

+5 for following my sisters blog MamaKnows

+5 for friending Bridget on Facebook

+5 for friending my sister on Facebook

+10 for adding the Readaholic button to your blog

+10 for adding the It's My Life button to your blog

+10 for adding the MamaKnows button

+10 for listing http://bridget3420.blogspot.com on your blogroll

+10 for listing http://freebies4meandu.blogspot.com on your blogroll

+2 if you enter another one of my giveaways (+2 for each)

+50 for adding the Scarefest button on your blog (you must leave the link)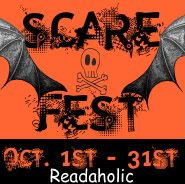 +50 for adding the Holiday Gift Guide button to your blog (you must leave the link)










*Current friends/followers receive the extra points as well - just make sure you remind me in the comments*

**Must leave an email address in comment or must be visible in blogger profile**

Giveaway ends: Oct. 31, 2010

Winners will be notified via email. The winners will have 48 hours to send me their mailing info or another winner will be chosen.

Official Rules - *No purchase necessary. Void where prohibited. *Entry instructions, additional eligibility requirements, prize information listed on individual giveaway posts. By submitting an entry, entrants agree to these rules and agree that they are eligible to enter. The sponsor is responsible for sending the giveaway items.




Disclosure: I received a copy of this book for free. All opinions expressed are 100% mine. If you purchase a book using my Amazon or Barnes and Noble link, I will receive a small portion of the purchase price.