Halloween is a particularly tricky time, for gluten-free children. Wheat and other gluten-containing grains are often used as a thickener in candies. While other children are eagerly amassing piles of Halloween treats, gluten-free children are only able to 'look, not eat' or give away their loot.
With a little advanced work, parents and teachers can have their own GF Halloween parties or treats to give eager 'trick or treaters'. Peanut Butter & Chocolate Filled Brownie Cups, Simplebites Cookies, German Chocolate Brownies, Cherry Chip Cookies, cookie Two-Packs, cupcakes of all sorts are on the menu...along with a scary Gingerbread House. This month, Pamela's Products earned the Kid Kritics Seal of Approval; so parents can be assured that their children will enjoy all the delicious gluten-free treats available to them.

Parents can make mini-sized treats and individually wrap them for 'trick or treaters' on Halloween. Remember to put a tag with your name, address and phone number on them, so that people know whom the treats are from. Not into baking? Pamela's Products Simplebites or various cookie Two-Packs are perfectly sized for candy baskets. All the previous recipes and products and many more may be found on Pamela's Products website (www.pamelasproducts.com).

October is Celiac Awareness Month. Celiac Disease affects 1 in 100 Americans. The only treatment is to adhere to a gluten-free diet. Celiac Disease is no longer considered just a gastrointestinal disorder. It is a multi-system, multi-symptom disorder, often without gastrointestinal (GI) symptoms. The prevalence and awareness of CD in the United States is growing. The overall prevalence of gluten sensitive disorders is unknown but is possibly 2 to 3 times as high as that of CD. Very little information is available about gluten intolerance, which is not necessarily triggered by the immune system and is therefore not Celiac Disease.

Pamela Giusto-Sorrells, founder of Pamela's Products has appeared on NBC & ABC affiliates nationally, KRON and KTVK. Pamela's Products have been featured on the Today Show, The Doctors, in Gourmet Magazine, Woman's Day, Real Simple and many other outlets.
Two of my readers will receive two single serves each
The prize(s) will be mailed out by the sponsor
MANDATORY ENTRY:
You MUST leave a comment
EXTRA ENTRIES:
+20 for signing up for the Pamela's Products
newsletter
+10 for following the sponsor on
Twitter
+10 for connecting with the sponsor on
Facebook
+5 for subscribing to this blog (email or reader)
+5 for following this blog
+5 for following Bridget on
Twitter
+5 for following my sister on
Twitter
+10 for tweeting this (UNLIMITED):
SCAREFEST #giveaway: Pamela's Products Brownie Mix @bridget3420 @pamelasproducts http://t.co/mMOTP3z #contest #win
+10 for linking to this contest - make sure you leave the link in your comments (on your blog, - sidebar counts, Myspace, Facebook, etc.) THIS CAN BE DONE ONCE A DAY per site
+5 for subscribing to
Readaholic
(email or reader)
+5 for following
Readaholic
+5 for following
You Wanna Know What I Think...
+5 for following my sisters blog
MamaKnows
+5 for friending Bridget on
Facebook
+5 for friending my sister on
Facebook
+10 for grabbing the It's My Life button and placing it on your sidebar
+10 for adding the Readaholic button to your blog
+10 for adding the MamaKnows button - left sidebar
+10 for listing http://bridget3420.blogspot.com on your blogroll
+10 for listing http://freebies4meandu.blogspot.com on your blogroll
+2 if you enter another one of my giveaways (+2 for each)
+50 for adding the Scarefest button on your blog (you must leave the link)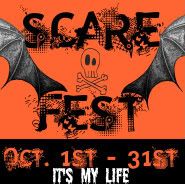 +50 for adding the Holiday Gift Guide button on your blog (you must leave the link)
*Current friends/followers receive the extra points as well - just make sure you remind me in the comments*
**Must leave an email address in comment or must be visible in blogger profile**
Winners will be chosen Oct. 22nd and notified via email. The winners will have 48 hours to send me their mailing info or another winner will be chosen.
Official Rules - *No purchase necessary. Void where prohibited. *Entry instructions, additional eligibility requirements, prize information listed on individual giveaway posts. By submitting an entry, entrants agree to these rules and agree that they are eligible to enter. The sponsor is responsible for sending the giveaway items.