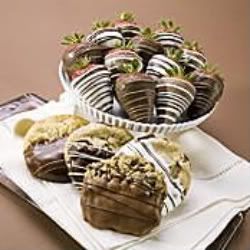 My mom is very important to me and I always have the toughest time picking out gifts for her. It's not that she's hard to please, in fact, it's just the opposite. She is happy with anything and I think that makes me try harder because I know she deserves the absolute best. This year, however, I have found the perfect gift and I don't have a doubt in my mind that it is "the one".
The
4 Dipped Cookies & Full Dozen Swizzled Berries
are more than mouthwatering. They are pieces of heaven. These jumbo-sized strawberries are juicy and there is just the right amount of chocolate covering them. What surprised me most of all was that my husband liked them. He's not usually a fan of this type of dessert, so when he told me that he liked them, I knew we had hit the jackpot! There are so many
Strawberries Covered in Chocolate Gift Ideas
that are perfect for the best mom in the world - like mine. I'm thinking about getting a box every month "just because". The cookies were a nice bonus because one cookie is enough to satisfy any sweet tooth.
Entering BERRYGOOD at checkout will give you a 15% discount.
Disclosure: I received this item for free.