People often give their children lockets with pictures inside. My dog, Reese, is like my child. It is my job to make sure that she is fed, safe and gets her vaccinations on time. I've been called crazy because of how I interact with my dog. She's not a pet, she's a member of my family and I absolutely adore her. So when I found out that I could not only order a
personalized dog charm
for Reese and I was given the opportunity to order a couple extra to pass out at my local dog park, I was jumping for joy. I ended up using this picture on the extra charms:
When I received them in the mail, I was so happy with how they turned out. I put Reese's bling on right away. After a couple of days, I made my way to the Boone County Dog Park:
It's kind of hard to see but the concrete behind the trash cans is shaped like a bone which I thought was cute.

Reese is about 50 pounds, so we entered the large dog section of the park.
As soon as I opened the gate, Reese took off to make some friends. The first dog she met was this really pretty 11-year-old female who is a mixed breed:
She chased Reese all around and it was obvious that this is an Alpha dog. When the owner, Sandy, saw the charm on Reese, she immediately asked me where I got it. She said that she had never seen anything like it and that she would love to order one. I pulled one of the extras out of my purse and told her that she could have one. All I would need is for her to put it on the dog now so that I could take a picture. Of course, she was thrilled and put the charm on right away. It was really hard to get a decent photo because this dog has a ton of fur. This was the best I could do.
After all talking to Sandy and trying desperately to get a good pic, Reese was in need of a good rest.
Even though she was extremely tired, she still kept looking around to make sure that nothing happened that she wasn't aware of.
This is about the time that we met Molly. Molly was rescued a couple of weeks earlier and her owner is smitten with her. She is a really good dog and it's shocking that someone just gave this pooch up after caring for her for two years.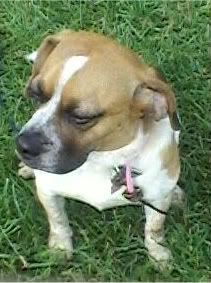 Molly is extremely sweet and absolutely adorable. When her owner saw the charm on Reese, she asked where I was able to get something like that. I told her about the process of purchasing
dog charms
on the Dog Collar Charms website. I was able to hand her a card that included the website, so that she would be able to buy one and design it herself. She asked for a couple extra cards because she knows some people who would be really interested in this product.
I expected people to like this product and wasn't surprised at all at how many people commented on what a great present this would make. I'm really glad I was able to participate and spread the word about this awesome new item for our four-legged friends.
Disclosure: This shop has been compensated as part of a social shopper insights study for Collective Bias. All expressed opinions are my own.