DS Lite doesn't just play DS games – it also features an additional port for Game Boy Advance Game Paks
Get up to 19 hours continuous gameplay on one charge
Ready to take on the world? With Nintendo Wi-Fi Connection, you can connect wirelessly, chat with friends while you play and compete with Nintendo DS owners across the globe. All you need to play is a Nintendo DS and a Wi-Fi-ready game
Twin ultra bright LCD screens that combine crisp, punchy colors, along with touch-screen technology on the lower screen
Powerful dual processors bring 3D graphics to life with lightning-fast rendering
DS Lite doesn't just play DS games ? it also features an additional port for Game Boy Advance Game Paks
Best Friends Tonight
Be charismatic as the anchor of the Teen Planet TV Show
Guide the cast to success as you build a friendly atmosphere on the TV set to keep the Teen Planet's TV show on air.
Be the best friend one can ever have - be attentive, care for your friends, advise them and support them when needed
Have fun through many different activities to build stronger friendships
Engage cast members in a variety of activities to improve their skills for the show.
Petz Dogz Talent Show
Train your puppies in fun activities - Including skateboarding, obstacle courses, and catching a Frisbee or ball.
Watch your dogs reach their full potential - Each activity has different levels for your puppy to reach; master the easy level to unlock more difficult stadium courses.
Discover your puppies' funny and unexpected behaviors - If your Chihuahua doesn't have a good balance, he/she will keep falling from the skateboard so you have to help them improve.
Care for and bond with puppyz and kittenz - Groom, bathe and feed these precious little animals to help them grow and become friends.
Adopt all-new breeds of puppyz and kittenz - Play with unique breeds such as a boxer puppy or a Russian Blue kitten and choose different puppy and kitten breeds to play together.
Discover your puppies' and kittens' personalities - As you nurture and bond with them, they learn what their favorite foods and toys are.
Help your puppyz and kittenz bond by playing activities ? Interact with your petz like never before to keep them happy and playing together.
Unlock exclusive content on Petz World - By playing Petz Puppyz and Kittenz on the Nintendo DS, players can unlock exclusive breeds in the Petz virtual world, Petz World.
Enter the universe of the most successful entertainer of all time and master the beat of his most unforgettable hits.
Feel the rhythm as you play along to the beat of MJ's most iconic songs. Listen to the music's tempo and slide objects on the screen accordingly. Master your favorites to unlock new tracks, more challenging difficulty levels, and tons of bonuses.
Once you complete a song in the game you can unlock it to listen on our own interactive jukebox. Create your own routines by mixing dance moves to the beat of MJ's legendary songs!
Three difficulty levels make the game accessible to everyone - even Michael's youngest fans!
Exclusive rotoscopy technology showcases Michael Jackson's authentic choreography with incredible precision - right in the palm of your hand.
Explore your creativity in seven different workshops including painting, pottery and framing.
Become a great decorator by completing your clients? projects, taking into account their wishes and budget.
Use the money you earn to buy new furniture or decorative objects and accessories.
Share or trade your masterpieces with your friends!
Imagine: Fashion Designer World Tour
Travel the World ? Promote your fashion brand all over the world as you set up runway shows, photoshoots, and celebrity endorsements
Open boutiques in iconic fashion cities, promote your brand by taking part in local fashion events.
Design your Brand ? Create a fashion collection under your own label.
Design amazing collections of different themes, you can even take pictures of patterns in the real world and apply them to your designs with the DSi?.
Become a Fashion Expert ? Become a world famous fashion trends expert as you travel the world looking for the hottest fashions.
Imagine Babyz Fashion
Feed them, play with them, and soothe them to sleep so they are the happiest babies.
Design one-of-a-kind tops, bottoms, and accessories to create a matching look from head to toe!
Customize the style, color, and fabric of adorable fashions for little boys and girls!
Show your model babies how to rock the runway shows and photoshoots as you select music and dance moves for them.
Take a picture of a real world pattern with the DSi? to incorporate in your designs for a unique look!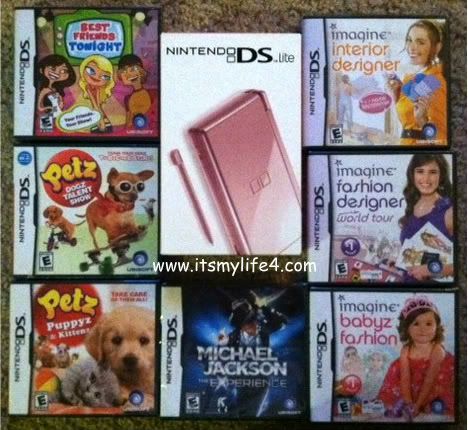 Win it all! One of my readers will win all of the items shown above! All you have to do to enter is fill out the Rafflecopter form:
The prize is being provided by Ubisoft. All opinions expressed are 100% my own.