App Sends Auto Reply from Mobile Device: "I'm Driving, I'll call or text you back as soon as I arrive at my destination."
Joining thirty other states, Georgia recently banned the dangerous and often deadly, growing social epidemic of phoning and texting while driving, a particularly troubling problem among younger drivers. In that regard, I would like to suggest an interview with the developer of a totally-unique Smartphone app that helps curb this compulsive behavior.
He's Internet pioneer and Iconosys Inc. CEO & founder Wayne Irving II, who can discuss his incredible SMS Replier™ app that helps stop texting while driving plus other disturbing trends in today's modern technology world such as "Cyber-bullying."
With the summer travel season at its peak and back-to-school/back-to-college season here as well, the time could not be more appropriate for the introduction of Iconosys' revolutionary SMS Replier™ which is adaptable for the Android, Blackberry and Windows Mobile platforms. While everyone's safety is important while driving, many families and students take to the nation's roadways during this time of year and with the economy still not corrected, more are opting to drive to their destination rather than fly out of the nearest airport.
SMS Replier™ works by enhancing the existing and exponentially growing global SMS network, by joining it with new services that are now available on the most popular Smartphone platforms; including real time traffic, mapping and GPS. Users can download SMS Replier™ to their Smartphone via the company's website at
www.smsreplier.com
or by visiting the Android marketplace or the marketplace for their Smartphone platform. When enabled, the SMS Replier™ will automatically send a response to inbound calls and text messages independently, letting the driver concentrate on the driving and not the phone. SMS Replier™ contains numerous value-added and rich features, such as unlimited custom messages, editable pre-loaded default messages, noreply/blocklist, white list enhancements, spam and shortcode filtering, and even allows for unique differentiation between callers and texters.
Texting while driving (TWD) continues to be one of the most dangerous threats on our nation's roadways, yet at any given time, over 800,000 people are engaged in this practice. When on the road, the smart technology in SMS Replier™ triggers the automatic text message response whenever a call or text arrives; the default reply similar to "I'm Driving, I'll call or text you back as soon as I arrive at my destination."
SMS Replier™ comes with up to 26 pre-set convenience messages with timers that are useful in a variety of situations, allowing users to choose between automatically select easy pre-loaded text message responses for calls and texts, or creating a virtually unlimited amount of totally customizable responses as well.
SMS Replier ™ is available for download for $19.95 and comes with free upgrades for 1 full year from the date of purchase.
One of my readers will receive this app
The prize(s) will be mailed out by the sponsor
MANDATORY ENTRY:
You MUST leave a comment.
EXTRA ENTRIES:
+20 for signing up to receive the
newsletter
+10 for liking Iconosys on
Facebook
+10 for following SMSReplier on
Twitter
+5 for following this blog
+5 for following Bridget on
Twitter
+5 for following Krista on
Twitter
+5 for following my sister on
Twitter
+10 for tweeting this (can be done up to 3 times a day):
#giveaway: CyberSynch Application @bridget3420 @SMSReplier http://t.co/Tddr8Fd #contest #win
+10 for linking to this contest - make sure you leave the link in your comments (on your blog, - sidebar counts, Myspace, Facebook, etc.) THIS CAN BE DONE ONCE A DAY per site
+5 for following
Readaholic
+5 for following
You Wanna Know What I Think...
+5 for following my sisters blog
MamaKnows
+5 for friending Bridget on
Facebook
+5 for friending Krista on
Facebook
+5 for friending my sister on
Facebook
+10 for grabbing the It's My Life button and placing it on your sidebar
+10 for adding the Readaholic button to your blog
+10 for adding You Wanna Know What I Think button to your sidebar
+10 for adding the MamaKnows button - left sidebar
+2 if you enter another one of my giveaways (+2 for each)
+50 for adding the Scarefest button on your blog (you must leave the link)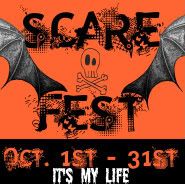 *Current friends/followers receive the extra points as well - just make sure you remind me in the comments*
**Must leave an email address in comment or must be visible in blogger profile**
Winners will be chosen Oct. 14th and notified via email. The winners will have 48 hours to send me their mailing info or another winner will be chosen.
Official Rules - *No purchase necessary. Void where prohibited. *Entry instructions, additional eligibility requirements, prize information listed on individual giveaway posts. By submitting an entry, entrants agree to these rules and agree that they are eligible to enter. The sponsor is responsible for sending the giveaway items.

Disclosure: I received products from this company in exchange for an honest review. Opinions expressed are 100% mine.