Cold Plasma represents Dr. Perricone's most comprehensive and efficacious work to date.

Through Dr. Perricone's patented delivery system, Cold Plasma offers the skin all it needs for optimal health. Cold Plasma helps correct the ten most visible signs of aging: wrinkles, enlarged pores, dryness, redness, discoloration, uneven skin tone, impurities, loss of firmness, loss of smoothness, and loss of radiance.

Whatever your age or skin type, Cold Plasma delivers extraordinary results.
I have heard wonderful things about
perricone cleanser
and I love that it will work for any skin type. I have a problem with products drying or irritating my sensitive skin. Even though I am still young, I need to use
night creams with retinol
because the sooner you start fighting signs of aging, the longer it will take for you to look older. That's my motto!
One of my readers will receive Perricone Cold Plasma
Open to residents of the US and Canada
The prize(s) will be mailed out by the sponsor
MANDATORY ENTRY:
You MUST visit Perricone and look around at their products. Then come back here and leave a comment telling me which item ($150 or less) you want or need and why.
EXTRA ENTRIES:
+20 for subscribing to Perricone's newsletter*
+10 for liking Perricone on Facebook*
+10 for following Perricone on Twitter*
*all of these options can be found on Perricone's homepage
+5 for subscribing to this blog (email or reader)
+5 for following this blog
+5 for following Bridget on Twitter
+10 for tweeting about this giveaway (UNLIMITED)
+10 for linking to this contest - make sure you leave the link in your comments (on your blog, - sidebar counts, Myspace, Facebook, etc.) THIS CAN BE DONE ONCE A DAY per site
+5 for friending Bridget on Facebook
+10 for grabbing the It's My Life button and placing it on your sidebar
+10 for listing http://bridget3420.blogspot.com on your blogroll
+10 for listing http://freebies4meandu.blogspot.com on your blogroll
+2 if you enter another one of my giveaways (+2 for each)
+50 for adding the Scarefest button on your blog (you must leave the link)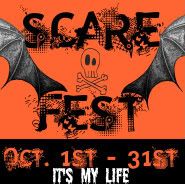 *Current friends/followers receive the extra points as well - just make sure you remind me in the comments*
**Must leave an email address in comment or must be visible in blogger profile**
Winners will be chosen Oct. 11th and notified via email. The winners will have 48 hours to send me their mailing info or another winner will be chosen.
Official Rules - *No purchase necessary. Void where prohibited. *Entry instructions, additional eligibility requirements, prize information listed on individual giveaway posts. By submitting an entry, entrants agree to these rules and agree that they are eligible to enter. The sponsor is responsible for sending the giveaway items.

Disclosure: I will be receiving this product for free for hosting this giveaway. Opinions expressed are 100% mine.