I am so excited about this giveaway! This is such an amazing service, especially for those caring for children or grandparents.
E-mergency is a complete emergency medical records system that gets your – or your loved ones - vital information to EMTs in a medical emergency immediately – either on your Android or iPhone app, your internet-enabled phone - or, if you have a regular or no phone - on your E-mergency website that EMTs view on their phones or laptops.

So E-mergency protects everyone, whether you have a smart phone or not.

That's important because, when EMTs arrive at a medical emergency they know nothing about you or your loved ones. With no knowledge of your vital statistics, medical conditions, current medications or potential allergies they're operating in the dark, risking dangerous medical errors even as they strive to save you and yours. Nor do they know who your contacts are or how to get in touch with them. Even if you have ICE on your phone, EMTs don't have time to call contacts; their job is to save lives.

With E-mergency, it's a far better story.

EMTs find your E-mergency Alert Card that tells them how to instantly access your records. Designed with the help of Doctors & EMTs, E-mergency gets up-to-date medical information – including allergies, medications, and medical history - to EMTs on your iPhone, Android phone, Internet-enabled phone, or EMR website that EMTs or ER staff view on their phones or computers. Now they can avoid medical errors and make informed treatment choices. While EMTs are doing their job, E-mergency automatically notifies your loved ones and medical contacts with your GPS location. If you don't have a GPS device, EMTs can add a quick destination message that goes out to all your contacts at once.

This is what the U.S. Dept. of Health & Human Services says about medical error prevention:

"Make sure your doctors know about everything you are taking, including prescription and over-the-counter medicines, plus allergies or adverse reactions you've had to medications."
From: 20 Tips to Help Prevent Medical Errors, U.S. Dept. of Health & Human Services

There is no system as thorough as E-mergency, that does all of this:

• Gets up-to-date emergency medical information to EMTs instantly
• Custom Alert Cards quickly direct EMTs to either smart phone app or website
• Automatically notifies contacts of incident and GPS (or EMT) location
• Is created with the help of Doctors and EMTs to provide just the right information
• EMT-viewable website provides backup protection in case of broken, lost – or no - phone
• Protects multiple Members on myriad phones – or no phone – from one convenient Account
• Quickly and easily adds and deletes temporary Members for special group events

Of particular interest to the parents, E-mergency is the only EMR system that quickly and easily allows adding temporary Members to your account. It works like this: if a parent is taking a group of kids on a special trip, they can add those kids to their phone in minutes. If an incident occurs, the temporary group's information will be available – and their parents and medical contacts will be notified. Temporary groups can quickly be deleted after the trip or event.

We're on a bit of a mission about getting E-mergency to families. Here's why.

We take daily precautions that we no longer think twice about when we put our kids in car seats, buckle seat belts, ride bikes with bike helmets, etc. Yet we venture out without taking the simple precaution of ensuring that EMTs will have the information they need to treat us correctly and avoid dangerous errors in the event of an emergency. Nearly half of all medication errors happen because doctors lack critical information about a patient's history, according to Michael R. Cohen, president of the Institute for Safe Medication Practices. For pennies per day, E-mergency is the effective, thorough solution that we believe will take its place alongside car seats, seatbelts, and helmets - we will one day wonder why we once went without it.
If you would like to purchase an account, use the code
itsmylife1
and receive $1 off. If you purchase an account and end up winning the giveaway, E-mergency will reimburse the purchase price. There will never be a renewal fee.
Two of my readers will each receive a free lifetime E-mergency Account
Must be a single family
The prize(s) will be handled by the sponsor
MANDATORY ENTRY:
You MUST visit the sponsor's
website
and then leave me a comment telling me something you learned or found interesting.
EXTRA ENTRIES:
+50 if you purchase an E-mergency
account
+20 for signing up to receive
email updates
+10 for following E-mergency on
Twitter
+10 for liking E-mergency on
Facebook
+10 if you writing on their wall on
Facebook
and telling them I sent you
+5 for subscribing to this blog (email or reader)
+5 for following this blog
+5 for following Bridget on
Twitter
+5 for following my sister on
Twitter
+10 for tweeting this (can be done up to 3 times a day):
#GIVEAWAY: Lifetime E-mergency Account @bridget3420 @MedEmergencyApp http://t.co/u5Ud3DT #contest #win
+10 for linking to this contest - make sure you leave the link in your comments (on your blog, - sidebar counts, Myspace, Facebook, etc.) THIS CAN BE DONE ONCE A DAY per site
+5 for subscribing to
Readaholic
(email or reader)
+5 for following
Readaholic
+5 for following
You Wanna Know What I Think...
+5 for following my sisters blog
MamaKnows
+5 for friending Bridget on
Facebook
+5 for friending my sister on
Facebook
+10 for grabbing the It's My Life button and placing it on your sidebar
+10 for adding the Readaholic button to your blog
+10 for adding the MamaKnows button - left sidebar
+2 if you enter another one of my giveaways (+2 for each)
+50 for adding the Scarefest button on your blog (you must leave the link)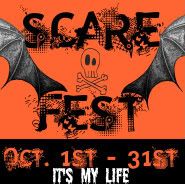 *Current friends/followers receive the extra points as well - just make sure you remind me in the comments*
**Must leave an email address in comment or must be visible in blogger profile**
Winners will be chosen Oct. 6th and notified via email. The winners will have 48 hours to send me their mailing info or another winner will be chosen.
Official Rules - *No purchase necessary. Void where prohibited. *Entry instructions, additional eligibility requirements, prize information listed on individual giveaway posts. By submitting an entry, entrants agree to these rules and agree that they are eligible to enter. The sponsor is responsible for sending the giveaway items.

Disclosure: This giveaway is being sponsored by E-mergency.