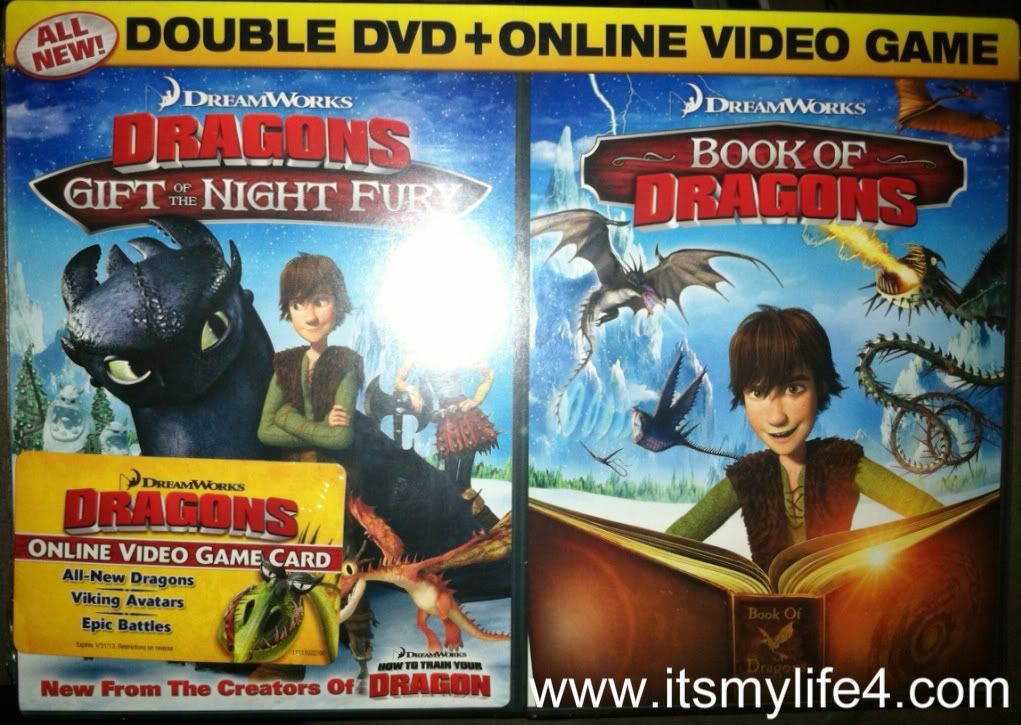 I am a huge fan of How To Train Your Dragon. It's such a cute movie and I love the message that it sends. Needless to say, I was ecstatic when I found out about the
DreamWorks Dragons Double Pack: Gift of the Night Fury / Book of Dragons (Two-Disc DVD Pack + Online Video Game)
.
I watched "Gift of the Night Fury" first and was instantly sucked in to the story because it picks up where How To Train Your Dragon ended. Together, Hiccup and Toothless discover an island filled with new dragons. Next, I put in the "Book of Dragons" and learned about seven new dragons. I really enjoyed the adventure these films provided and they were a hit with my nephew. The Dragons Online Video Game was fabulous! We had a blast creating our avatars and training our dragons. My favorite part is the dragon battles.
The DREAMWORKS DRAGONS Double DVD + Online Video Game Pack includes the following:
Disc 1:
• DreamWorks Dragons: Gift of the Night Fury
• Gobber's Training Secrets
• Deleted Scenes
• Spot the Difference
• Learn How to Draw a Baby Gronckle
• How to Host a Snoggletog Party (DVD-ROM)
• Previews
• World of DreamWorks Animation
Disc 2:
• DreamWorks: Book of Dragons
• Dragon Lair (DVD-ROM)
o Your Book of Dragons
o 3-D Land of the Dragons
Plus:
• Dragons Online Video Game—The ultimate interactive Dragons challenge! Once you've learned all the insider training secrets in the Book of Dragons, you're ready to use your exclusive game card to gain access to this all-new, high-quality video game:
o Create your own Viking avatar
o Learn to train Dragons
o Fight epic dragon battles
• 14 battle arenas
• 8 Dragon lairs
• 4 legend games
o Challenge the Dragons you loved in the film
o Discover and battle seven never-before-seen Dragons
o Earn training and battle badges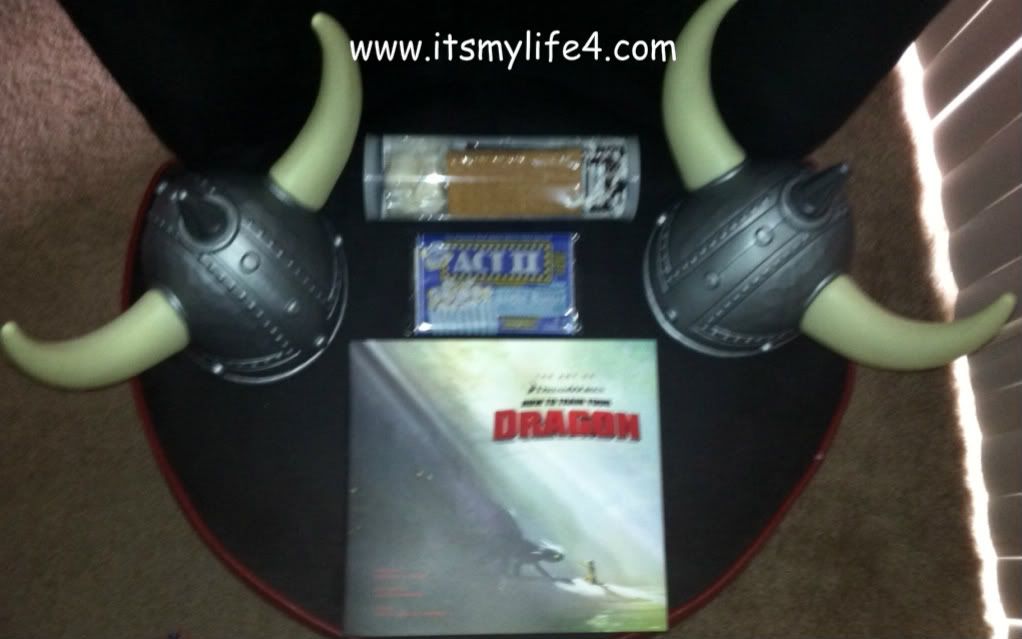 I was lucky enough to score the items shown on the right and was so happy to be able to give them to my nephew. When I showed up at his house with The Art of DreamWorks How To Train Your Dragon book, he lit up. I think he loves books almost as much as I do. The pictures are unbelievable! I meant to get a picture of him in the viking helmet. I'll have to add that later. We enjoyed popcorn and smores and watched Damien play with his new belongings. It made my day!
Disclosure: I received the products shown above free of charge. All opinions expressed are 100% my own. If you make a purchase using my affiliate link(s), I will receive compensation.