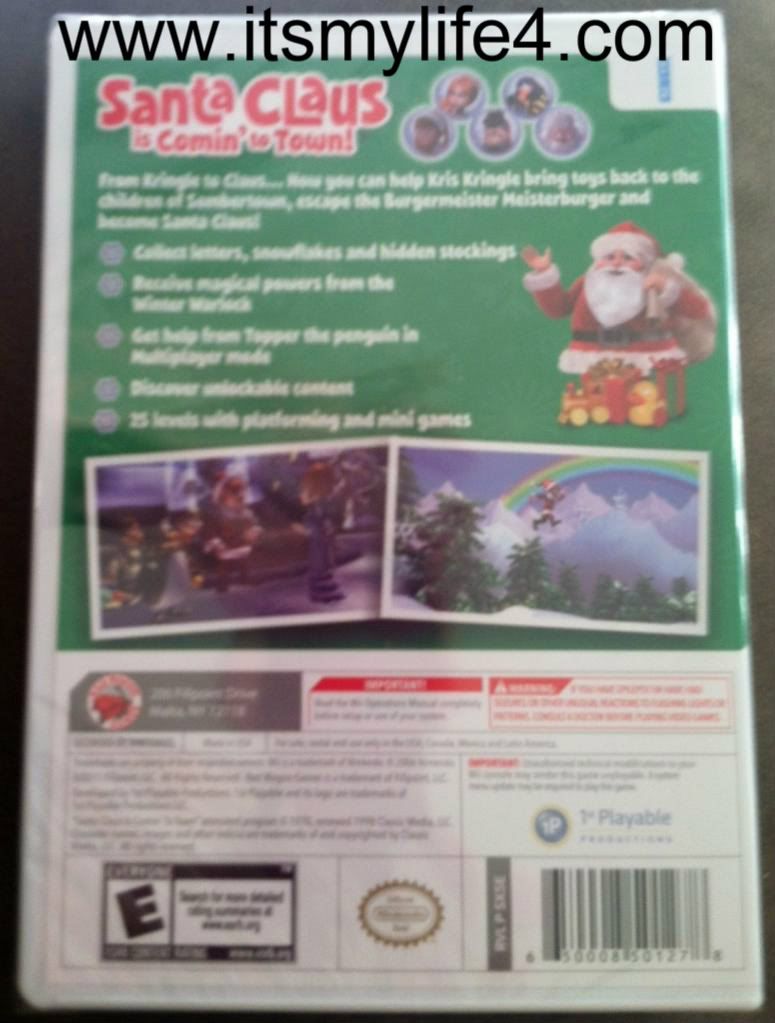 About this game:
Developed by 1st Playable Productions, LLC, and published by Red Wagon Games, Santa Claus is Comin' to Town allows families to share the magic of this classic holiday special in a whole new way. In this platforming adventure game, players join Kris Kringle and his friends as they escape the Burgermeister Meisterburger and bring toys to the children of Sombertown. Santa Claus is Comin' to Town is an easy to play and fun game for the whole family.
I love the holidays, especially Christmas. It's such a fun time of year and I get this overwhelming feeling of peace. I can remember when I was a kid and Christmas seemed like such a magical time. Playing
Santa Claus is Comin' to Town! for Wii
brought back all of my childhood memories and made me feel like I was traveling back in time. My four-year-old nephew went nuts when I showed up at his house with this game. He grabbed it out of my hands and put the game in the Wii, set up the TV and started playing. Yes, he can do all of that on his own. He was so excited and kept turning to me and saying, "look, it's Santa". When it was time for me to leave, he ran over kissed me real quick and went right back to his game. I love that little guy.
The game is rated E for Everyone by the ESRB. Playing this game allows you (or your children) to collect letters, snowflakes and find hidden stockings. You receive magical powers from the Winter Warlock, discover unlockable content and play 25 levels with platforming and mini games. Plus, you can get help from Topper the penguin when you use Multiplayer mode. Santa Claus is Coming to Town is the perfect game to get your kids hyped up for the holidays!
Buy it:
Santa Claus is Comin' to Town! for Wii
Enter to win by filling out the Rafflecopter form:
Disclosure: I received this product for review purposes. All opinions expressed are 100% my own.