The twelve-city, two week tour features eighteen of today's most buzzed writers of young adult paranormal romance - from international bestsellers and award winners to the genre's hottest newcomers. I thought this tour might be of particular interest to your readers and would make for a very fun mom's night out (or a terrific way to bond with your teen). Featuring six to nine Chicks at every venue, the author line up in every city will be different so no two events will be exactly the same.
Appearing at Every Stop
Melissa Marr
www.Melissa-Marr.com
Alyson Noel
www.AlysonNoel.com
Kelley Armstrong
www.KelleyArmstrong.com
Appearing at Selected Stops
Jennifer Lynn Barnes
www.JenniferLynnBarnes.com
Holly Black
www.BlackHolly.com
Sarah Rees Brennan
www.SarahReesBrennan.com
Rachel Caine
www.RachelCaine.com
Cassandra Clare
www.CassandraClare.com
Melissa de la Cruz
www.melissa-delacruz.com
Kimberly Dertlng
www.KimberlyDerting.com
Kami Garcia & Margaret Stohl
www.BeautifulCreaturesTheBook.com
Jackson Pearce
www.JacksonPearce.com
Mary Pearson
www.MaryPearson.com
Carrie Ryan
www.CarrieRyan.com
Jeri Smith-Ready
www.JeriSmithReady.com
Jessica Verday
www.JessicaVerday.com
Rachel Vincent
www.RachelVincent.com
Smart Chicks Kick It Tour schedule
You can purchase Smart Chicks t-shirts
here
.
One of my readers will win a Smart Chicks Surprise Pack that will include 3 books from authors appearing on the tour (chosen by the sponsor)
Open to residents of the US and Canada
The book(s) will be mailed out by the sponsor
MANDATORY ENTRY:
You MUST leave a comment telling me which author listed above is your favorite.
EXTRA ENTRIES:
+10 for liking Smart Chicks Kick It Tour on
Facebook
+5 for following this blog
+5 for following Bridget on
Twitter
+5 for following Krista on
Twitter
+5 for following my sister on
Twitter
+10 for tweeting this (can be done up to 3 times a day):
#GIVEAWAY Smart Chicks Surprise Pack @bridget3420 http://t.co/0Dmunf6 #contest #win
+10 for linking to this contest - make sure you leave the link in your comments (on your blog, - sidebar counts, Myspace, Facebook, etc.) THIS CAN BE DONE ONCE A DAY per site
+5 for following
Readaholic
+5 for following
You Wanna Know What I Think...
+5 for following my sisters blog
MamaKnows
+5 for friending Bridget on
Facebook
+5 for friending Krista on
Facebook
+5 for friending my sister on
Facebook
+10 for adding the Readaholic button to your blog
+10 for adding the It's My Life button to your blog
+10 for adding You Wanna Know What I Think button to your sidebar
+10 for adding the MamaKnows button
+2 if you enter another one of my giveaways (+2 for each)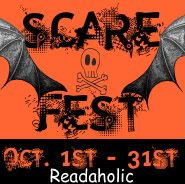 *Current friends/followers receive the extra points as well - just make sure you remind me in the comments*
**Must leave an email address in comment or must be visible in blogger profile**
Winners will be chosen Oct. 1st and notified via email. The winners will have 48 hours to send me their mailing info or another winner will be chosen.
Official Rules - *No purchase necessary. Void where prohibited. *Entry instructions, additional eligibility requirements, prize information listed on individual giveaway posts. By submitting an entry, entrants agree to these rules and agree that they are eligible to enter. The sponsor is responsible for sending the giveaway items.

Disclosure: I received a copy of this book for free from Atria Books. All opinions expressed are 100% mine. If you purchase a book using my Amazon or Barnes and Noble link, I will receive a small portion of the purchase price.