ABOUT THIS PRODUCT:
Our extra strength pain relieving spray works quickly to provide fast, temporary relief of everyday arthritis, muscle and back pain. Get the proven pain-relieving benefits of menthol, plus glucosamine and MSM – two essential ingredients long known for their ability to help with joint pain and arthritis. Depend on easy-to-use Stopain Extra Strength Spray for pain relief right where you need it most. Nothing Lasts Longer!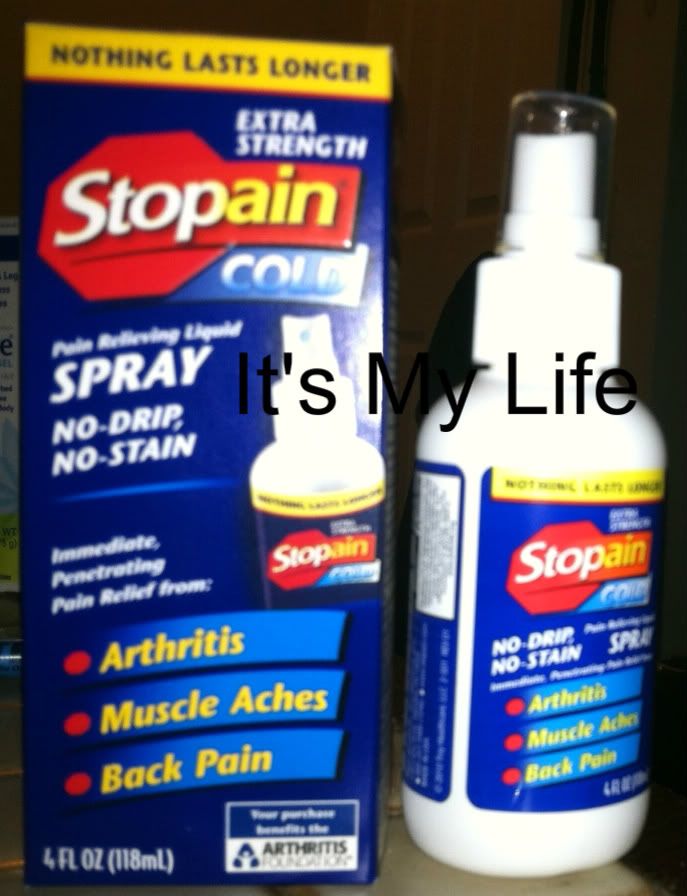 MY THOUGHTS:
At the end of 2005, I was in a car accident and have suffered from explicit back and neck pain ever since. I have also been told that I have arthritis, which adds to the severity of my pain. Being in pain every single day feels natural to me and that is very, very sad. When I am able to find a product that actually helps minimize my pain, I feel like I have hit the jackpot.
One night, I was complaining to my husband about my back hurting and he applied some of the
Stopain Cold Pain Extra Strength Relief
Spray to the area. I was immediately hit with a shock of coldness. After about five minutes, I felt parts of my back relax which helped ease the pain. What I love about this product most is that it comes in an easy-to-use spray bottle. It's nice to be able to feel a little bit better and not have to worry about getting stinky cream all over your hands. I never feel like I can get it all off.
Stopain provides relief for the following:
Arthritis
Muscle Pain
Back Pain
Strains
Bruises
Sprains
Stopain is available in gel, roll-on and spray form.
a Rafflecopter giveaway
Disclosure: I received a free bottle of Stopain for review purposes. All opinions expressed are 100% my own.