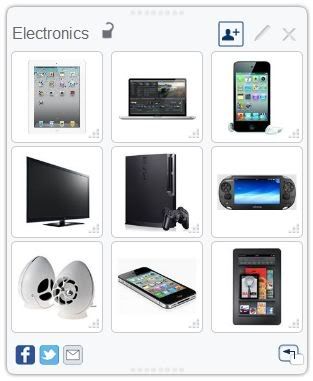 One of my New Year's Resolutions was to be more organized.  So far, this is the easiest resolution for me to keep.  I now have a "flow" and it is so much easier for myself and my family to function.  The main thing that has helped me has been being able to do pretty much all of my organizing online.  I am constantly blogging and now that I have formulated a system, things seem to be running a lot smoother. 
I checked out this website called clipix and have been clipping away!  This clipboard program gives you the opportunity to upload different pictures by placing them in different categories.  When see something online that you like, you can instantly add it to clipboard and easily share it with both family and friends.  It doesn't cost anything to open an account and you can upload as many images as your heart desires.
I just put together a clipboard for electronics, which I can share on Facebook, Twitter or by email with just the click of a button.  You can start sharing your images, documents, spreadsheets and PDF files now.  Be sure to invite your friends and have fun!
Promoted Post