One of my New Year's Resolutions was to be more organized in all aspects of my life.  I had grown sick of the chaotic mess that I called my life. One of the greatest tools to help with organization has to be my laptop.  I can use different software to keep track of things and I can use the internet to purchase organizational products for my home.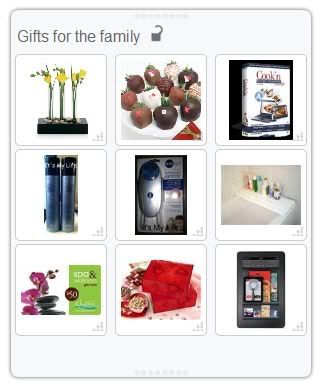 Today, I have been playing around with clipix.  What is clipix?  It's a really cool clipboard program that allows you to upload different images and place them into different categories.  I see things all the time that I think would make great gifts for different people in my life.  Instead of trying to remember every single one of them, I am using a clipboard to upload images of the products I find.
You can create a clipboard for any topic you like.  If you are an avid reader, you can make a clipboard that has the covers of all your favorite books and easily share it with friends and family.  If you like to share different articles with the people in your life, you can make a clipboard for that.  The possibilities are endless. 
This is a free service that you can use as often as you like.  You can set your boards to private or share them with the clipix family.  If you are addicted to your iPhone, you will be happy to know that there is an app for clipix! 
Promoted Post