When I was a little girl, my grandma used to send me handmade clothes and blankets for my dolls. I thought it was so cool that she would sew in a tag with my name on it. It used to excite me seeing that no one could claim my toys as their own. They were mine and they really did have my name on them. When I heard about the company
Lovable Labels
, I was ecstatic. I was even more excited when I found out that I was getting the
Friendship Pack
to review. I was able to pick two kids to give these awesome labels to and there was no doubt in my mind who would be on the receiving end. My two favorite little men in the whole world - Damien and Jordan.
Lovable Labels has two different friendship packs, one for boys and one for girls:
After choosing which package you want, you get to choose an icon:
When I received the labels in the mail, I was so happy with the results! They look great and the icon accent really makes them stand out.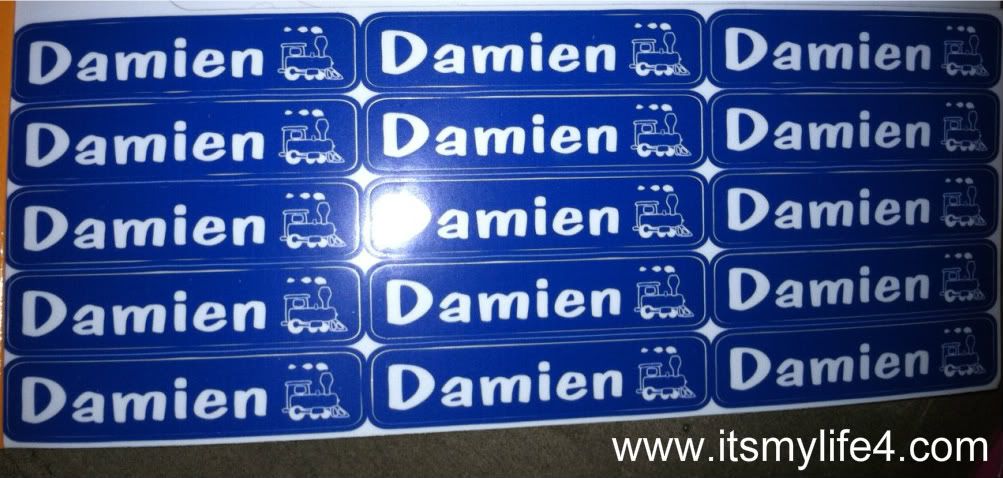 My nephew, Damien, loves any type of sticker. I think he gets that from his Aunt Bridget. Plus, with him being in preschool, these labels are a great investment.
The Friendship Pack comes with the following:
Quantity:
30 Sticker Labels
80 Slimline Labels
10 Fun Stickies
Dimensions:
Sticker Labels: 7 cm x 1.5 cm (2 ¾" x 9/16")
Slimline Labels: 5.0 cm x 0.7 cm (2" x ¼")
Fun Stickies: 4.3 cm x 4.3 cm (1 11/16" x 1 11/16")

The best part is that you get it all for $24.95.
Disclosure: I received a Friendship Pack from Lovable Labels for review purposes. All opinions expressed are 100% my own.