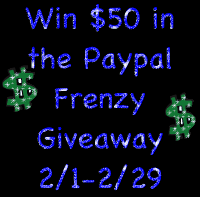 Are you interested in participating in the Paypal Frenzy Giveaway starting Feb. 1st through Feb. 29th?
What's in it for you?
More traffic to your site and social media accounts, of course!
What do you have to do?
Write up a post, in your own words, about this giveaway event letting your readers know about it. Invite them to enter and/or sign up to participate. Be sure that you link back to
this post
. On February 1st, post the Rafflecopter form on your blog and promote the giveaway any way you see fit.
How much does it cost?
$2 per mandatory entry
$1 per extra entry
The money should be sent via Paypal to bjhopper(at)me(dot)com. Please send it as "purchase" and "
services".
Send me an email @ bjhopper(at)me(dot)com with the following information:
1) Link to your blog post about this event
2) Your Paypal email address so I can verify funds
3) List of entries (please mark each one as mandatory or extra)
This giveaway is open to anyone 18+ who has a Paypal account and can receive funds.